(This page contains Amazon affiliate links)
The PSI (Penn State Industries)/ Benjamin's Best HSS Wood Lathe Chisel Set (LCHSS8) includes 8 woodturning chisels:
3/16 Inch parting tool

5/8-Inch spear scraper

1-Inch skew chisel

5/8-Inch skew chisel
5/8-Inch round nose scraper
1/2-Inch bowl gouge
3/4-Inch spindle gouge
7/8-Inch roughing gouge
The hardwood handles are approximately 10 3/4 inches long.
The chisels are made with high speed steel and are approximately 5 1/4 inches long.
The set comes in a wood display case.
This woodturning chisel set includes a variety of tools for different woodturning projects including spindles, bowl making, pen making, and more.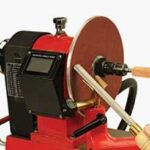 *The tools may need to be sharpened/touched up when received.  Make sure you have a good method of sharpening your chisels.  There are a variety of sharpening systems available. Woodturning will dull even the best tools, and sharp tools are necessary for safe and quality woodturning.
Find out more about PSI (Penn State Industries)/ Benjamin's Best HSS Wood Lathe Chisel Set (LCHSS8) HERE