How To Start A Woodturning Business
A woodturning business can provide a good part-time income, but will take some work, planning, and skill to provide a full-time income.  Being a successful woodturner not only requires good woodturning skills, but also involves organization, knowledge, patience, perseverance, people-skills, and a number of other traits.  Realize that business skills may play a larger part in your success than how good you are as a woodworker.
3 STEPS TO STARTING A WOODTURNING BUSINESS
There are three basic steps to getting a woodturning business started.  The first step is the planning stage.  This is important when starting any business.  Second is registering with proper government institutions.  This will make you a legal business.  You will need to collect taxes from your sales.  Lastly, you will need to learn how to effectively promote your business in order to attract customers.
1.  Plan Your Woodturning Business
Develop a Business plan
Before starting any type of woodworking business, you should work up at least a simple business plan.  This plan does not need to be complex, but  should include your present and future goals for your company, estimated startup costs, and estimated operating costs.  Don't forget about insurance costs.  A business plan is an outline of your business that will help organize your goals and priorities and help you make wise decisions.
Planning properly will help you decide if you are going to specialize in a specific niche such as reproduction work, or if you will offer a variety of services.  You will want to determine if you will be creating one-of-a-kind art pieces to be sold at higher prices, or if you will run more of a production shop, mass-producing items that will be sold at lower costs.  You could also work with carpenters and builders to help reproduce or custom-make pieces such as spindles.
Set short and long-term goals – Decide which direction you want your woodturning business to go.
Decide what services you will offer – Start with what you do best.
Find a niche – What will be your specialty?  What will set you apart from other woodturners and woodworkers?
Put some thought into deciding a name for your woodturning business.
Decide what you will charge for your services
Financing – You may possibly need to get a business loan to help get your business started.  This would probably only apply if you need to buy or rent a shop and higher end production equipment.
Get Organized
As soon as you get started with your woodturning business, you will need to get organized so you can keep your paperwork, orders, and customer data in order.  You won't necessarily need a full office when starting out.  An office desk dedicated to your company paperwork would be helpful.  A lot depends on what direction you want to take your business.
A daily planner or smartphone is helpful to make notes, schedule appointments, etc.  A schedule will help you plan your day, week, and month, so you can make best use of your time and your customer's time.  Make sure you document your communications with your customers.  You don't want to make the mistake of forgetting an important detail in a custom piece.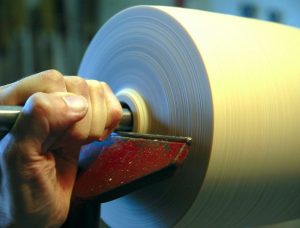 Set up an office
E-mail
Business phone
Estimate forms
Bill Forms
Equipment needed when starting your woodturning business
Hopefully, if you are planning to make money at woodturning, you already have many of the tools you will need.  If you still need to set up a shop, you may have to spend a bit of money to fill it with the equipment you will need.  Setting up a woodworking shop from scratch can be very expensive.  Starting out, you don't necessarily need all brand-new tools and equipment.  You don't necessarily need the largest or the most expensive equipment.  You will save thousands of dollars in startup costs by purchasing used woodworking tools, and other misc. tools and equipment.  Craigslist is one good source for used lathes, bandsaws and other tools. Another tip is to only buy tools and gadgets as jobs require them.  It is tempting to fill your shop with every single tool you can think up, but this is not wise.  Buying tools only when a job requires them will help keep you from going into debt for tools and equipment you may end up never using.
2.  Register Your New Woodturning Business
Make it legal
Every location has different requirements for becoming a legal business.  You will need to properly research to find out what is required.  This means having necessary insurance, following tax codes, getting proper licenses and permits, etc.  This applies even to a part-time woodturning business.
Some steps to starting your woodturning company legally:
Select your business structure (sole-proprietor, LLC,  etc.)  You will most likely start as a sole-proprietor.
Register your woodturning business name
Register your woodturning business entity
Open a business bank account for your new business
Taxes- either get an accountant, or do research on filing yourself
Liability Insurance- this may not be necessary- check with your insurance agent.
Worker's Compensation (if you have employees)
City Licenses and Permits
OSHA (depending on how many employees you have)
3.  How To Grow Your New Woodturning Business
This may be the most difficult part of having a woodturning business.  You will need to market your business effectively in order to gain new customers.  Success and profit won't come overnight.
Customers
Beside employees, dealing with customers can cause a great amount of stress.  Learning how to communicate well with customers can help boost sales and increase word-of-mouth advertising.
Learn how to sell your work to a potential customer
Make sure your work is priced properly
Communicate regularly and clearly with the customer
Be fair and honest- take responsibility for your mistakes
Marketing
Marketing is a critical way to build your woodworking business.  Some low-cost advertising to get started can include a basic 1 or 2 page website, setting up a free business listing for your woodturning business on Google and other online directories, social media accounts, and business cards.
It would also be helpful to network with other woodworkers, contractors, crafters and others.  They can use you when they need woodturning work done, and you can refer customers to them for their services.
Here are some helpful tips on making money with your woodturning business: How To Make Money With A Woodworking Business